News > New Honda Civic Hatch
2018-08-30 10:14:48

New Honda Civic Hatch 1.6 Diesel Executive launched in South Africa.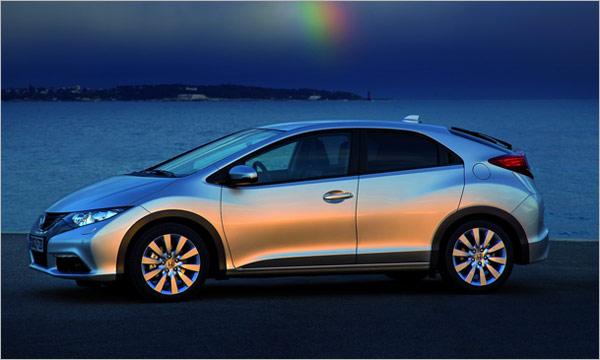 The Honda Civic 1.6l i-DTEC has been launched as the perfect choice for the buyer looking for space, power, performance and economy. At Mekor Honda we're really excited about this addition to the Honda range, and would love you to come by and take a drive.
The 1.6l i-DTEC is the first engine globally with Honda's new Earth Dreams Technology which will be applied to all future engines. It boasts an excellent 88kw of power and 300 Nm of torque with CO2 emissions of just 109 g/km.
Features of the new Civic 1.6 i-DTEC engine:
Lightest diesel engine in its class: The new engine weighs an amazing 47kg less than Honda's 2.2-litre i-DTEC engine! All the components have been redesigned with advanced production techniques to minimise their weight.
Reduced mechanical friction
Clever turbocharger
Efficient fuel injection system and engine air flow
New transmission system
The 6 speed manual transmission system is 7kg lighter than the transmission system in the 2.2-litre i-DTEC helping the engine to produce maximum torque of 300 Nm. It delivers the best transmission efficiency in its class, a smooth, accurate feel when changing gears, and a new reverse system for improved operation load and quietness.
The 1.6 Honda Civic Diesel engine will be available in the Executive grade with 6 speed manual transmission.
The entire Honda Civic Hatch range will now receive rear strakes and emergency brake lights to improve overall aerodynamic performance.
Here's What the Critics Have to say…
Top Gear UK: "It looks good, it's nicely made, the cabin is the right side of barmy to engage the driver, and it rides a lot better than the old one thanks to fluid-filled bushes and tweaks to the rear torsion-beam suspension"
https://www.topgear.com/uk/honda/civic/road-test/1.6-i-dtec-driven
Recombu.com: "With its new aerodynamic design and economical 1.6 liter engine, the Honda Civic 1.6 i-DTech is a wonder to drive as its handling, suspension and comfort continuously make it a pleasure to drive"
https://recombu.com/cars/articles/reviews/honda-civic-1-6-i-dtec-diesel-review
Gearheads South Africa: "Earth Dreams Technology's new 1.6 economic engine is taking Honda to new heights as this new engine makes the car increasingly lighter than the 2.2 version, while making your drive around town more economically fuel efficient" https://gearheads.co.za/new-models/honda-civic-diesel-2013/
"The new Civic 1.6 i-DTech's econ button makes this car the most efficient of its kind. With a lighter engine and stop and start technology which stops the car when in neutral, this car is definitely taking Honda to new heights" https://www.youtube.com/watch?v=dVnLQZYEVWY&NR=1&feature=endscreen
"A better look into the production of the new Civic 1.6 i-DTech's new and highly sought after engine." https://www.youtube.com/watch?v=eP82nSM6ORk&list=PLyhLzJru_sBqFzalGlp-_bZRcy1rBIZQ5&index=2
Yet another engineering master-stroke from Honda! At Mekor Honda we're really proud to be offering the Honda Civic 1.6l i-DTEC and would invite you to make an appointment with your local Honda dealer as soon as possible to drive the new Honda Civic!